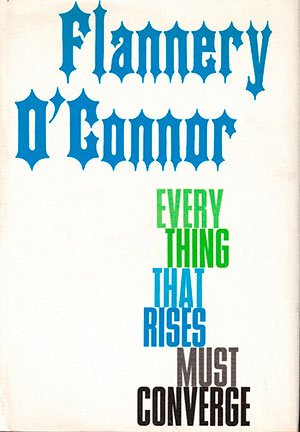 Bibliographic data
Title: Everything That Rises Must Converge
Author: Flannery O'Connor
Date: 1965
Publisher: Farrar Straus Giroux
Type: Short stories
Sinopsis:
"Everything That Rises Must Converge" by Flannery O'Connor is a piercing and insightful collection of stories that delve into the intricacies of the American South during a time of profound social and racial shifts. Published posthumously in 1965, this compilation reflects O'Connor's sharp insight into human nature and her prowess in portraying the tension between tradition and modernity.
The titular story, "Everything That Rises Must Converge", offers a sharp portrayal of racial and generational tensions in the South, as a mother and her adult son clash over views on racial equality during a bus ride. Through this and other tales, O'Connor examines her characters' internal struggles as they grapple with their own biases, redemption, and grace amidst a rapidly changing world.
"Greenleaf", "Revelation", and other stories in the collection showcase O'Connor's mastery in using irony and symbolism to unveil the depths of the human soul. Her characters, often ensnared by their own limitations and prejudices, are led to moments of revelation that challenge their prior understandings of the world and themselves.
Robert Fitzgerald's introduction offers valuable insight into O'Connor's life and work, highlighting her deep-rooted Catholicism and her unique vision of the American South. Though O'Connor's life was tragically short-lived, her literary legacy endures, and "Everything That Rises Must Converge" stands as a testament to her unparalleled genius and her ability to capture the essence of the human spirit amidst turmoil.
Content:
Everything That Rises Must Converge
Greenleaf
A View of the Woods
The Enduring Chill
The Comforts of Home
Revelation
Parker's Back
Judgement Day